Have you ever ever wished you could increase your mobile speaker volume so loud that you could lighten up the party\event mood. When you are out with your mobile or tablets and need the songs to be heard across your group, you have very limited options. External portable speakers is an option but does not offer significant difference when you are out. To add to that only one speaker can be connected to your mobile (unless you have wifi or NFC or Bluetooth splitter options).There is a cheaper option. In today's age, almost everyone carries mobile . There are some apps which which would make your friend's mobile or tablet as external speakers. You can play a song in one device and listen the song from multiple speakers.This creates a multi-speaker system. All you need is the same mobile app on all the devices.

We have complied a collection of mobile apps which can be used to play music on multiple mobiles as speakers.
SoundSeeder Music Player
This is only available for Android . With the free version only 2 devices can be connected as a multi-speaker system up to 15 minutes per session. With the paid version 16 devices can be simultaneously connected without any time limit. There are options to sync and manage the offset. It supports Android 4.1 ans later. for older version there is only a speaker application which can only be added as speaker but cannot play music or stream to other devices. Needs wifi or wifi-direct or hot spot for all devices.There is a

Free speaker application for Android, Windows and Linux (Raspberry Pi) available

. Can be downloaded at

http://soundseeder.com/downloads/

.

To connect a mobile as a speaker , open the app in Speaker mode. You can play from one device and control

the sound of this and connected speaker at the master device. You can control which devices are connected to the multi-speaker system. The device used as add-on speaker can also control its volume. All the devices in same wifi network get automatically detected in the Soundseeder. Different playback modes can be set in the master device which broadcasts the songs.

My Music:
Play tracks that are located on your phone, in your dlna media library or in your google music account.
Online Radio:
Select an online Radio Station and listen to it via SoundSeeder.
Mic/AUX:
Play sound that is recorded by the internal microphone or via the line-in (AUX) port of a connected USB soundcard.
Speaker Mode:
Connect this device as wireless Speaker to another device that is running the SoundSeeder Music Player.
The only drawback of this is that it is available only for Android.
Airfoil
By Rogue Amoeba Software
Using a windows PC or Mac and this Airfoil app, play audio files simultaneously on different mobile devices. In this case a PC or Mac book is required. Airfoil Speakers has to be installed on the mobile devices to be able to join to the multi-speaker set-up and all the devices and PC should be in the same wifi network.Using a hack, you can play songs from one iOSdevice and broadcast this through a PC or MAC to other iOS devices and Airfoil speakers. Airfoil application on the PC or MAC can receive different input and play across the devices.
The best thing about this application is that it can be run across Android and iOS devices.Different sources can be selected which range from local music from the device,online radio, home networks, through urls and through iTunes Audio sent through Airfoil can be received by multiple devices like :
Apple TV units - All versions, including the black boxes and the original silver

iOS devices - iPhones, iPods Touch, and iPads, running Airfoil Speakers Touch

Third-party AirPlay devices - Devices from companies like JBL, Denon, iHome and more

Other Macs, Windows, and Linux machines, running Airfoil Speakers

AirPort Express units - All models, from the current white box to the older-style 802.11n and 802.11g models
Major drawback of this app is that it requires a windows PC or a Mac.
Speakerfy
This is for both Android and iOS devices.The only drawback of this app is that it cannot stream online music. The audio file should exist on the device before it could be played on all the connected phones . The app developers market it as a social sound app and playable across iOS and Android devices simultaneously without any sync issues. But in our test labs, we could not play between Android and iOS devices. Also the sync is not always perfect. Setup is very easy and user friendly. Any number of devices can be connected . All the devices need to be on the same wifi network. On Host, click start , immediately all devices in the same wifi network get option to Join the multi-speaker system.Cannot control which devices are joining. Once started on the host , all the devices on the network. Volume is adjustable separately at each source
This app sounded the most promising but only managed to met the least of the expectations. If they could really fix their iOS versus Android issues and sync issues, it can go long way.
TuneMob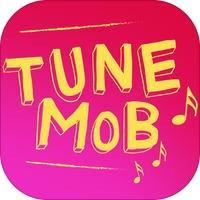 This app is only iOS devices. the marketing jargon for this app is that it could play music in Sync on Multiple Devices via Bluetooth and WiFi Tune Mob Simple Sharing. Unfortunately it fails to play the music only on Bluetooth. Same Wifi network is required on all devices. The sound quality and sync performance is really good.
Music can be played between 2 to 5 devices (

iPhones, iPads and iPods)

simultaneously. TuneMob needs to be installed on all the iOS devices. The TuneMob DJ should hit the 'Start' button on the master devices from where the music is played. All devices in the same network , get an option to join in their TuneMob app. On the devices are joined, the master devices displays the number of connections. The songs can be added from the Music library or from the Sound cloud.


Audibly - Make your music heard.
This again is iOS app.

Audibly plays your music in sync across nearby iOS devices. All the devices have to be on the same wifi network. From the master device, the user has to click the "Broadcast" button. On the devices which are intended to be connected as external speakers, "Listen option" has to be clicked. The sync performance was good in our testing labs. No latency issues were found.
• Create a playlist of songs from your own library
• Control the volume across all the devices
• Music kept in sync as you listen
• Use filters to change the pitch of the music
• Favorite what's playing to come back to it later
• No Internet connection required